Please note this information is fictitious.
Right Stuf Network is a 24-hour anime network that showcases some of Right Stuf's properties. The Right Stuf Network is North America's third 24-hour dubbed anime cable outlet, the first being ADV Films' Anime Network and the second being the Funimation Channel. During 2010, over 13 new titles were added to the 24-hour channel. The network launched in North America in early 2010 and is marketed to multi-system operators (MSOs) as both a Free and Subscription Video On Demand programming service.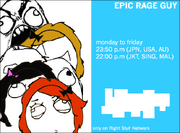 History
Talk of the channel and its format began in late 2008-early 2009. The Channel was founded by Manta-bee and Meanfang. A few other people had soon joined them and produced new programming. New Year's Bash started off the channel's running. The event included musical and celebrity guests, such as Linkin Park, and others.
Weekend Crush Zone
This block was added on January 2nd, 2010.
Right Stuf Late Night
This block was added on January 4, 2010
Animagic
Animagic airs around 9:00pm to 3:00 am on Monday to Friday, featuring shows with a target demographic for young men and women like Epic Rage Guy, Yuki no Hakase, Mahou Shojo Lovely Kuchu, and Project Redditular.
Shows
Current Programming

Original Series
Other
Clarence (anime style)
Dino Squad (anime style)
Epic Rage Guy (Currently airing Series 3 in Japan)
Fantastic Four (anime style)
Homestar Runner (Anime style) (aka Stinko Man K: 20X6 the Series)
Honkai Impact 3rd -The Animation- (Restricted 18+ | Ongoing: Seasons 5 & 0 | Sub Only)
Kouja no Senshi (Can be seen on DA) (Edited)
The Land Before Time (anime style)
Little Lulu and Her Little Friends
Milo Murphy's Law (anime style)
The Mr. Men Show (Their current show is Anime-ish in its own way)
Nanovor (anime style)
Nack and Psycho the Series (Can be seen on DA) (Edit)
NeoPets (Anime Series)
Peanuts (anime style)
Star vs. the Forces of Evil (anime style)
Steven Universe (anime style)
Total Shonen Jump-a-Rama October 2018
Upcoming Shows
CatDog Z
Elliott From Earth (anime style)
Rick and Morty (anime style)
Former Shows
Atomic Betty (Anime Style)
A Series of Unfortunate Events (Cancelled project due to the Netflix show)
Breadwinners (anime style)
Cyber Hearts! (Canceled; Can be seen on DA.)
Happy Hustle High (Ended after 5 episodes; Moved to The Viz.)
Parappa the Rapper
Regular Show (anime style)
Rabbids (Ended, had a second series on Nickelodeon)
Sanjay and Craig (anime style)
Teknophage: Demon's Reign (Can be seen on DA) - Lasted only 18 episodes
Uncle Grandpa (anime style)
Yogi Bear (anime style) - Lasted only 15 episodes
Right Stuf Movies
Other
Gravity Falls: Weirdmageddon (anime style)
Madagascar 3 (anime style)
Onward (anime style)
Parappa Remixed
Who Framed Roger Rabbit (Anime Style)
Promos and eras
Promos
A Cobalt the Bat promo was aired first, on January 9, 2010. Then, an Epic Rage Guy promo aired on April 29, 2010. After that, promos of different shows started airing, beginning on May 11, 2010.
Eras
The Classic Era (2007-2009)
The Polished Era (2009)
New Line Era (2010-2011)
Liner Era (2011-2012)
Symmetry Era (2012-)
Airing Schedule
Community content is available under
CC-BY-SA
unless otherwise noted.