Takeru & Hikari
Format
Anime series
Created by
Hiroshi Nishikiori
Writer(s)
Andrew St. Germain
Director(s)
Kenichiro Watanabe
Takao Kato
Andrew St. Germain
No. of episodes
26
Run time
22 min.
Network
TV Tokyo
English Network
Anime Network
Sentai Network
The CW
Sentai For Kids
B-Master Animation
Nickelodeon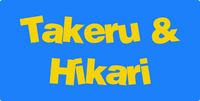 Takeru & Hikari is an anime series and a spin-off to Azumanga Preschool made by both Azumanga Animation and Toei Animation. The anime would feature characters from Digimon Adventure 01 and Gakuen Alice.
Featuring two young kids Takeru Takaishi and Hikari Yagami who both do misadventures and use their imagination (like imagining anything make believe) in this slice of life, comedy, and fantasy series. Their friend Mikan Sakura from 5th grade elementary school is kind of jealous to the 2 at first since they think they're more better than her. But then she leans that talent isn't the only thing, it's being friends.
Opening and Closing Themes
Edit
The opening theme is "Sun Day Sky Life" (a new song performed by Oranges & Lemons), and the closing theme is "Imagine The Night" (which is "One More Night" by Takako Mamiya with modified lyrics, and sung by the main characters).
Characters
Edit